HobbyTown NJ Mini 4WD Internationals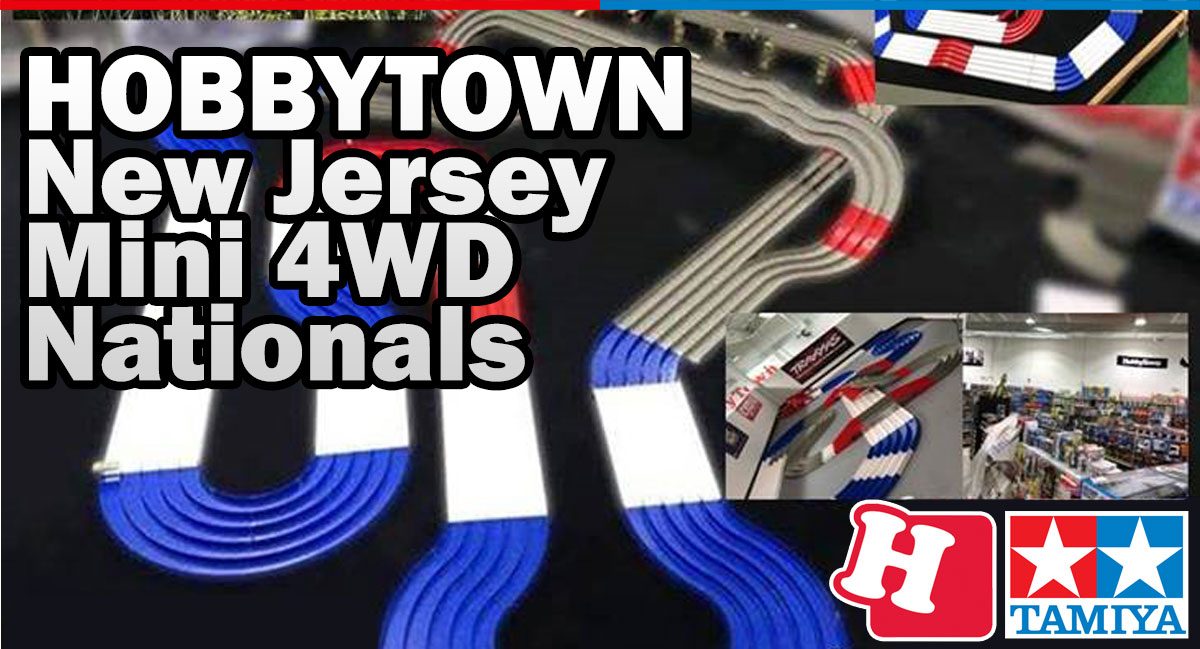 Attention Mini 4WD racers! Get ready to attend the 2019 HobbyTown New Jersey Mini 4WD Internationals!
This event will be held at the HobbyTown in New Jersey and is sponsored by TamiyaUSA, Mattel and HobbyTown USA. In addition to some awesome racing action, there will be thousands of dollars in prizes!
HobbyTown New Jersey location: 1256 Indian Head Road, Unit 29 Toms River, NJ 08755 Facebook Information Link: https://www.facebook.com/events/423585881512434/
Some of the prizes available:
TamiyaUSA
2 69506 Circuits at $299 Value each
1 58634 TT-02 NSX Car $120
2 69569 Oval Home Circuits $120 each
1 69571 Bank Approach $100 Each
4 15183 Speed Checker $55 Each
4 18652 Gazoo TS050 cars $23 Each
4 18650 DCR-02 MA $19 Each
4 95465 Jr Thunder shot $19 Each
4 95473 Compact Storage Bags $15 Each
3 15460 Storage Boxes $13.50 each
4 69572 Washboard sections $6.50 Each
24 74010 Pocket tool Sets $6.50 Each
12 15439 4wd Logo Sticker Sets $6.50 each
12 15505 Motor Case boxes $6.00 Each
12 95207 Mini Cardboard Box set $3.50 Each
12 66639 Mini 4wd Decals $2.50 Each
Mattel
Over 150 cars and track sections
HobbyTown
Lots of great prizes, including 1 69506 Circuit - a $299 value
Classes Available
Box Stock
Cars built with only their standard kit-included parts and included normal motor. No mixing/matching parts from other kits. No modifications allowed.
Tuned Class
Cars built with off-the-shelf upgrade parts, or mixed/matched parts from other kits. No chassis or parts modifications allowed, i.e., no trimming for clearance, no pierced wheels. Polycarbonate bodies are allowed. Bodies are allowed to be modified for design (trim, paint, stickers), but must must still be identifiable and mounted using the body catch. Motor limited to -Tuned motors and normal.
Open/Outlaw Class
Cars built with off-the-shelf upgrade parts, or mixed/matched parts from other kits. Modifications and third-party parts allowed, but general Tamiya car regulations still apply (see link below). Tamiya Mini 4WD motors up to Sprint Dash (single shaft) and Mach Dash Pro (double shaft) allowed. Jet Dash, Ultra Dash, and Plasma Dash motors are prohibited.
---
Racer Classes
4th Class added •Junior Class Limited to racers aged 14 and under.
Parts Restrictions
We strongly discourage the use of replica parts, and the use of non-Tamiya motors is strictly prohibited in all classes.
Rollers
All rollers originally equipped with rubber or plastic O-rings must have them installed before running on the track. Any car without O-rings installed will be subject to immediate disqualification.
Batteries
Batteries are limited to untampered alkaline, NiCd, and NiMH batteries only. The use of NiZn and/or lithium high voltage batteries is strictly prohibited and their use will result in an immediate disqualification.
PLEASE READ: Official Tamiya Mini 4WD Regulations (English) http://www.tamiya.com/english/mini4wd/regulation.htm
Entry Fees
$5 per Junior Car per event
$10 Per car per event
In addition, there will be TamiyaUSA staff present to taking pictures and answering questions!