Share Your Home Hobby Contest - Mini 4WD Edition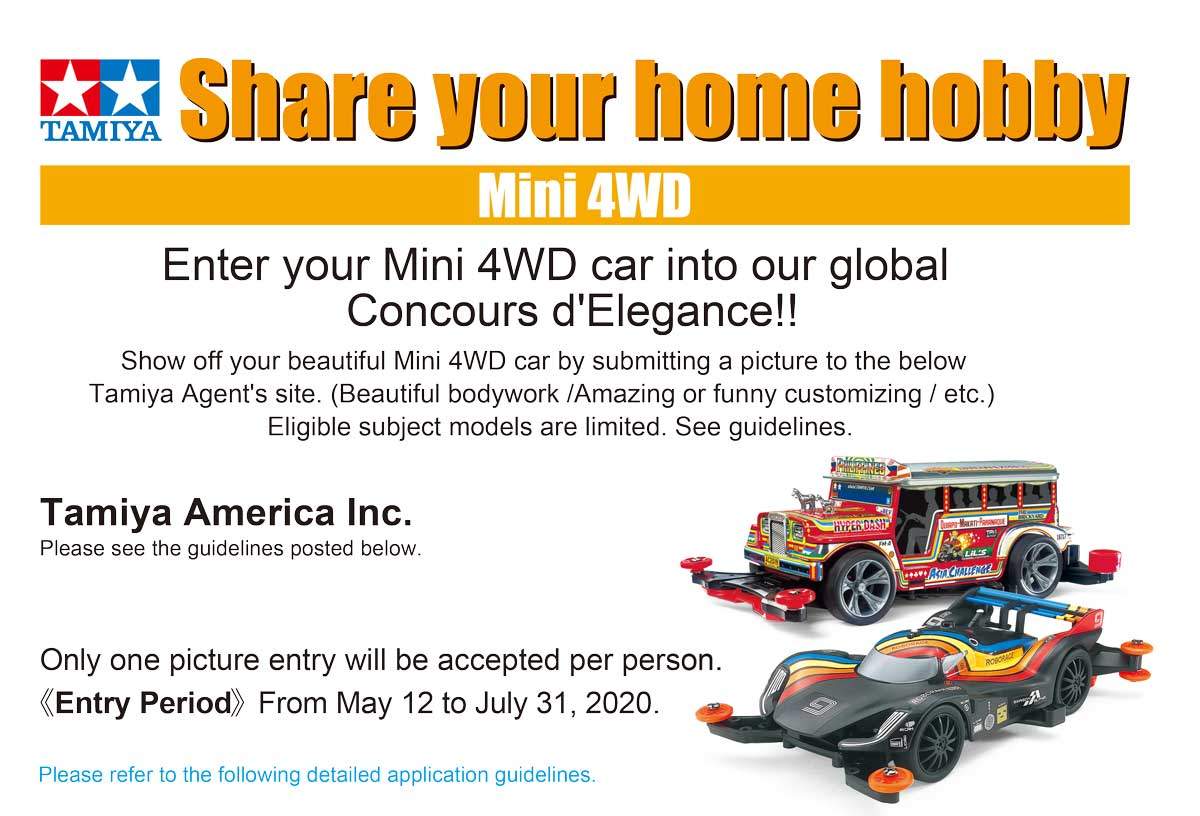 If you love the Tamiya Mini 4WDs, a quick picture of your personalized project car (or truck) could net you an amazing prize! It can be anything - creative customizing, beautiful paintwork, amazing styling - you name it, we want to see it!
We are looking for a picture, not a video, and only the vehicles below are eligible:
#18655 Tamiya Toyota GR Supra (MA Chassis)
#18656 Tamiya RoboRace Devbot 2.0 (MA Chassis)
#18717 Tamiya Dyipne (FM-A Chassis)
#95517 Tamiya Hyundai i20 Coupe WRC (MA Chassis)
#95533 Tamiya Toyota Gazoo Racing TS050 Hybrid 2019 (MA Chassis)
Additional Guidelines:
• Only one picture can be entered per person
Entry Period:
May 12 to July 31, 2020
Judging:
- All picture entries will be posted on our site.
- From all the posted pictures, we will choose the best two and send them to Tamiya, Inc.
- Tamiya, Inc. will also post them to the official Tamiya homepage and choose the best picture from those submitted all over the world.
To Enter:
Please provide the following information below via e-mail (Marketing@Tamiya.com) when submitting your entry (ommission of any field will render your entry ineligible):
• Your full name
• E-mail address
• Country of residence
• Occupation
• How long have you been driving?
• Your Picture
• Brief comment about your Picture
How to Submit Your Picture:
Attach a .jpeg image of your car to the same marketing@tamiya.com email as listed above along with the information requested.
---
Legal Stuff
By applying you hereby agree that we and Tamiya, Inc. have the right to freely use and publicize works pictures of authors, and information, without financial compensation.
---
We look forward to receiving your entry!