Tamiya Isuzu MU Type X CC-01 - ON SALE - Over 50% Off!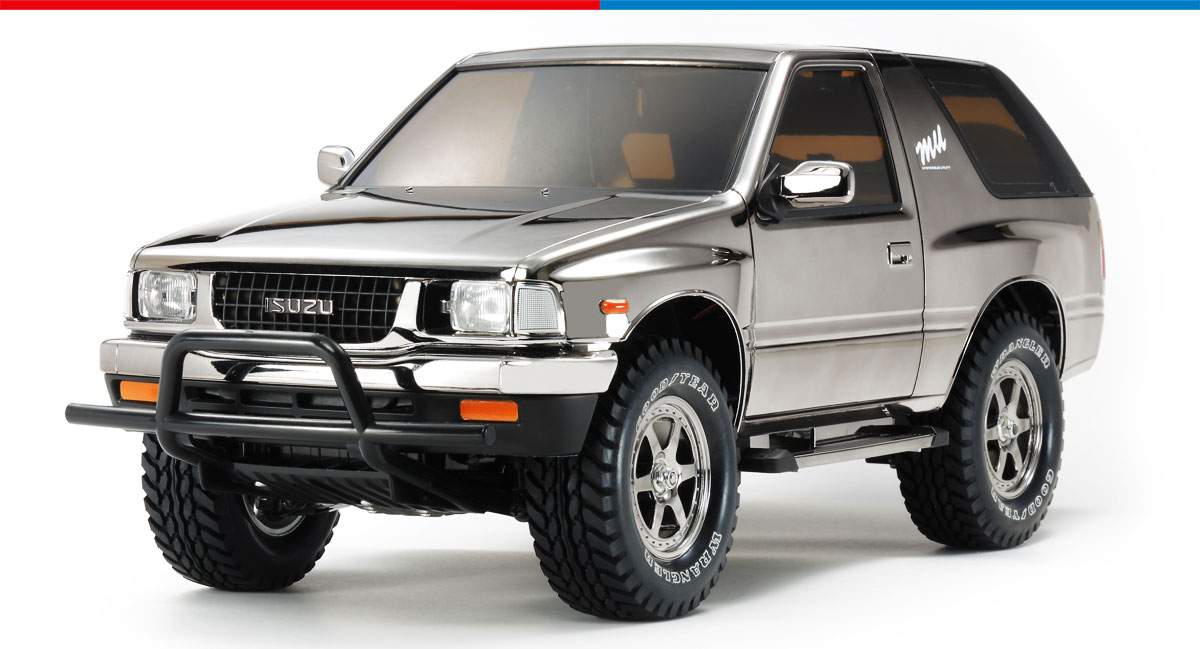 Tamiya RC Fans!
The Tamiya 1/10 scale R/C Isuzu MU Type X is on sale.
This is a special black metallic version of the sporty Isuzu mu Type X R/C assembly kit, which is also available as a standard non-metallic kit (Item 47370). The full-size mu was rebadged and sold abroad with names such as the Frontera Sport, Amigo and Rodeo Sport. The Limited-Edition kit comes with black metal-plated injection molded body, wheels and selected parts on the trusty CC-01 chassis, plus headlights.
Highlights to this kit:
• 1/10 scale R/C model assembly kit. Length: 462mm. Wheelbase: 242mm.
• Highly realistic injection molded body depicting the 3-door Isuzu mu form with a pre-applied black metal- plated finish. A (rear axle housing), C (under guard, etc.) and H parts (bumpers and sideboards) plus side mirrors and wheels also have a plated finish in the same color.
• Includes LED light unit with 5mm LEDs (White) x2 for headlights.
• Plated wheels are paired with realistic tires featuring authentic tread pattern and white logo stickers.
• CC-01 chassis features full-time 4WD and front double wishbone, rear 4-link rigid suspension equipped with 4 CVA oil dampers.
• Includes Tamiya TBLE-02S ESC (electronic speed control) Capable of running sensor brushless motors and brushed motors alike. (21.5 Turn BL motor limit) (23 Turn brushed motor limit)
• Requires: 2-channel radio, steering servo, battery pack with charger to complete.
Get yours now!
Tamiya 47383 Isuzu MU Type X - CC01 Black Metallic
https://www.tamiyausa.com/shop/110-trucks/rc-isuzu-mu-type-x-3/