TCS Finals 2019 - Look Who's Going to Japan!
This year's TCS Finals was held at the HobbyTown HobbyPlex in Omaha, Nebraska. We had close to 100 entries, all vying for not only a top spot on the podium, but also a chance to win an all-expenses paid trip to Japan to represent the US at the TCS Worlds!
We had 7 classes this year at the Finals:
GT1 (Trip-winning class)
GT2 (Trip-winning class)
M-Chassis (Trip-winning class)
GT Pro Spec
GT Spec Novice
Euro Truck
Formula 1
Each class had 4 rounds of qualifying (three on Saturday, one on Sunday) with the standard classes having a single A-Main. Since there was a ticket to Japan on the line, the Trip-winning classes had a little extra work - they had triple A-Mains!
Before we announce the winners of each class, let's take a quick look at the Concours winners crowned before qualifying started!
Formula 1: Jim Hungate
GT: Dane Gengler
Euro Truck: Kevin Lesac
M-Chassis: Kevin Lesac
These guys did a great job on all their rides and took home some hardware (and prizes) as a result of it!
---
Ok - on to the winners!
GT Spec Novice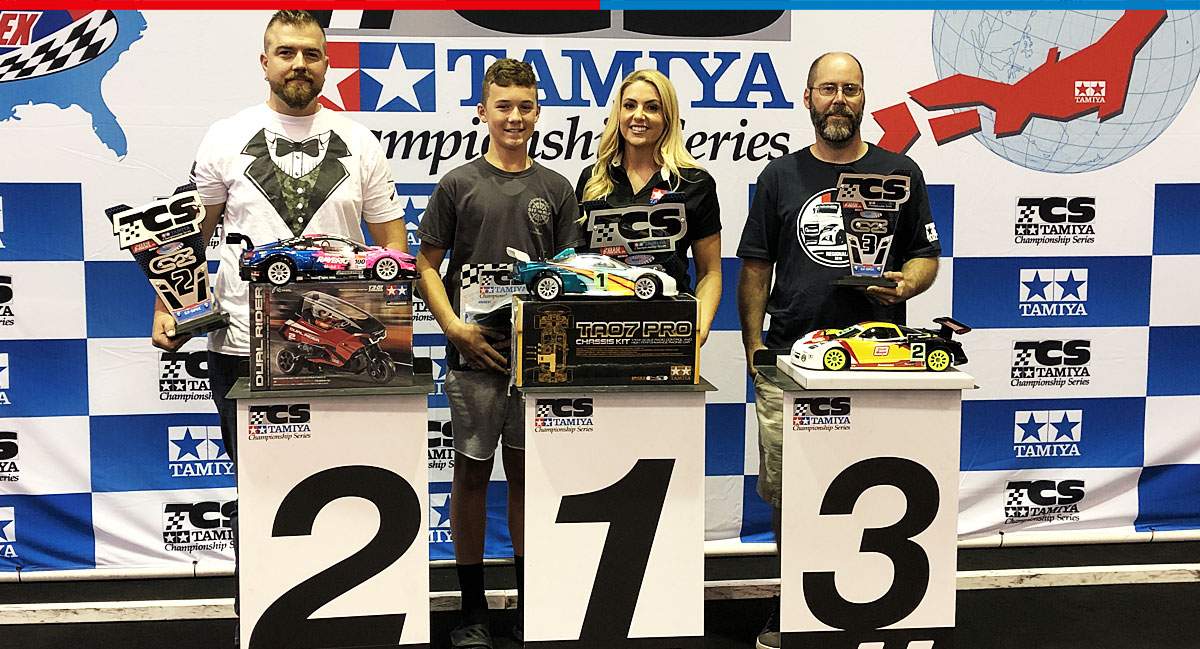 1st Place: Charlie Lydon Jr (TQ)
2nd Place: Dane Gengler
3rd Place: Bob Hamilton
---
GT Pro Spec

1st Place: Johan Gallant (TQ)
2nd Place: Natt Pheomthawee
3rd Place: Charlie Lydon
---
Euro Truck
1st Place: Kevin Lesac (TQ)
2nd Place: Bruce Lohaus
3rd Place: Jeffery Stevens
---
Formula 1
1st Place: Daniel Ho
2nd Place: Vue Vang
3rd Place: Manny Flores (TQ)
---
M-Chassis
1st Place: Manny Flores (TQ and US M-Chassis Representative in Japan)
2nd Place: John Balatico
3rd Place: Daniel Ho
---
GT2
1st Place: Vue Vang (TQ and US GT2 Representative in Japan)
2nd Place: Jonah Gallant
3rd Place: David Weir
---
GT1
1st Place: Nathan Weir (TQ and US GT1 Representative in Japan)
2nd Place: Rutt Sririmit
3rd Place: Jimmy Steegen
---
We'd also like to thank Courtney Day, the HobbyPlex and the Tamiya crew for putting on a fantastic program!

Courtney Day
(from left to right)
George Canare
Tom Q
Kenny McKinney
Courtney Day
Dustin Gochanour
Tim Ski
Alex Sturgeon
Bill McEuen
Tony Phalen
Fred Medel
Gary Demory
---
We've got a lot more pictures and video coming your way, so stay tuned!