Share Your Home Hobby Contest - Educational Edition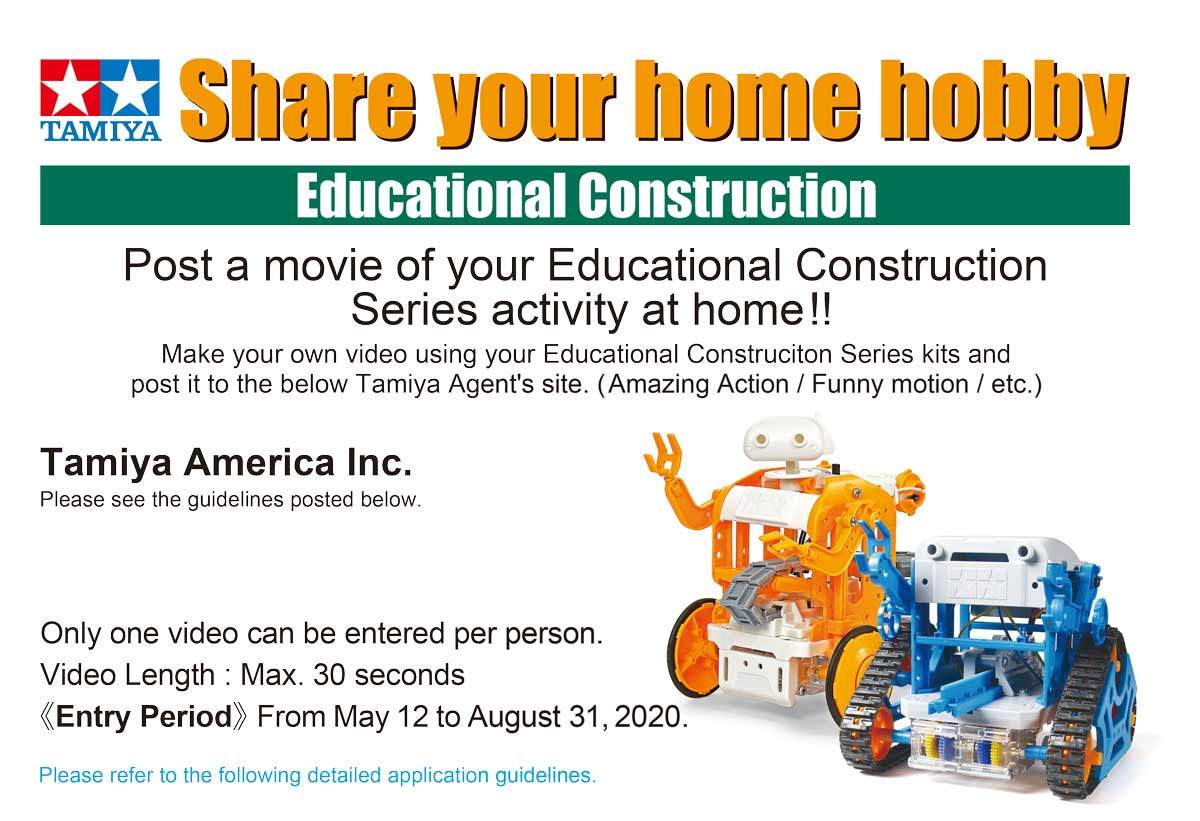 Enjoying your Educational Construction Series kit at home? Take a video of it in action and send it to us - it could be chosen to win a fantastic prize!
All of the Tamiya Educational Construction Series kits are eligible. You can use any other Tamiya-original items to customize the kits for this video.
Tamiya Educational Construction Series Kits and Parts
Additional Guidelines:
• Only one video can be entered per person
• Maximum video length of 30 seconds
• Videos showing dangerous action leading to or having the potential for damage or physical harm will not be accepted.
Entry Period:
May 12 to August 31, 2020
Judging:
- All video entries will be posted on our site.
- From all the posted videos, we will choose the best two and send them to Tamiya, Inc.
- Tamiya, Inc. will also post them to the official Tamiya homepage and choose the best video from those submitted all over the world.
To Enter:
Please provide the following information below via e-mail (Marketing@Tamiya.com) when submitting your entry (ommission of any field will render your entry ineligible):
• Your full name
• E-mail address
• Country of residence
• Occupation
• How long have you been driving?
• Your Picture
• Brief comment about your Video
How to Submit Your Video:
To submit your video simply visit WeTransfer Use: marketing@tamiya.com for the "TO" field. Use: Your email for the "FROM" field. In the "MESSAGE" field please enter: Your full name and Video Title
---
Legal Stuff
By applying you hereby agree that we and Tamiya, Inc. have the right to freely use and publicize works pictures of authors, and information, without financial compensation.
---
We look forward to receiving your entry!